Subscribe to an ADVANCED Recipok plan and get:
Nutritional information calculator.
Automatically, based on the ingredients included in a creation.
Internal food labeling.
Essential for labeling products prepared and stored in refrigerators and the storage area.
Consumer labeling.
With all the batch information, allergens, expiration date, barcode, and other customized data.
Product technical data sheet.
Dynamically constructed using ingredient data and preparation characteristics.
Cost studies and cost breakdowns.
Detailed by fixed costs, personnel, and ingredients, along with advanced graphics.
Comprehensive labeling compliant with regulations.
Recipok allows you to generate labels for your creations:
Automatically generates labels with minimal adjustments.
Includes information about ingredients and allergens.
Links output batch to food traceability.
Automatically calculates nutritional information.
Expiry date or best-before date.
User-configurable additional information.
Adjustable company information.
Template creator for use in other creations.
Font selection, font sizes, and element arrangement.
Automatic barcode creation.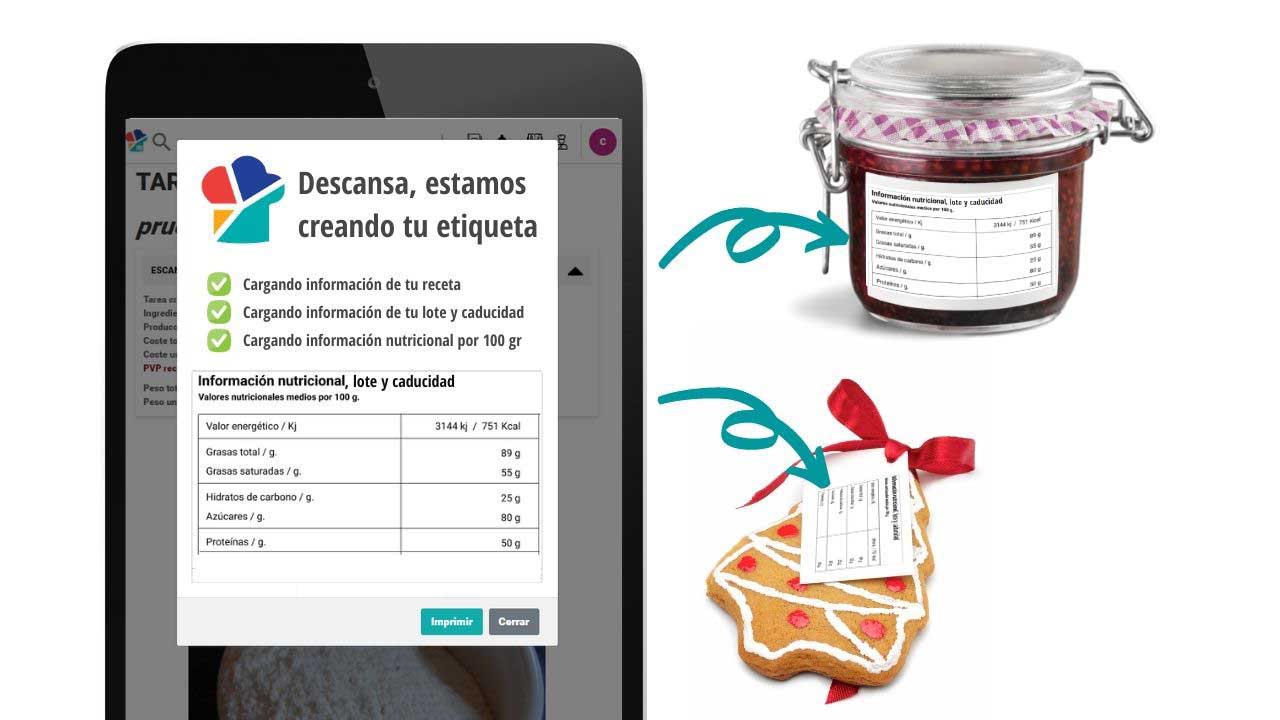 Complete labeling in accordance with regulations.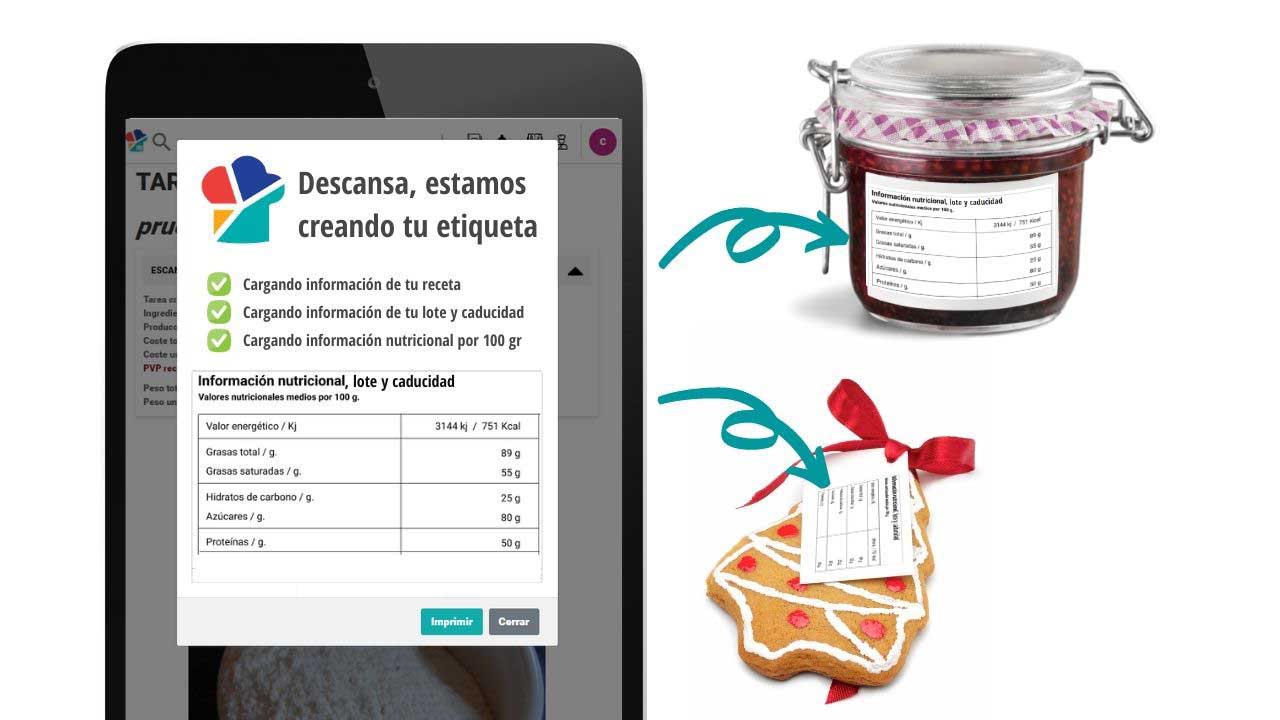 Recipok allows you to generate labels for your creations:
Information about ingredients and allergens.
Output batch linked to food traceability managed through Recipok.
With the BIG WORKSHOP plan, automatically calculated nutritional information using Recipok's Database.
Expiry date or best-before date.
User-configurable additional information.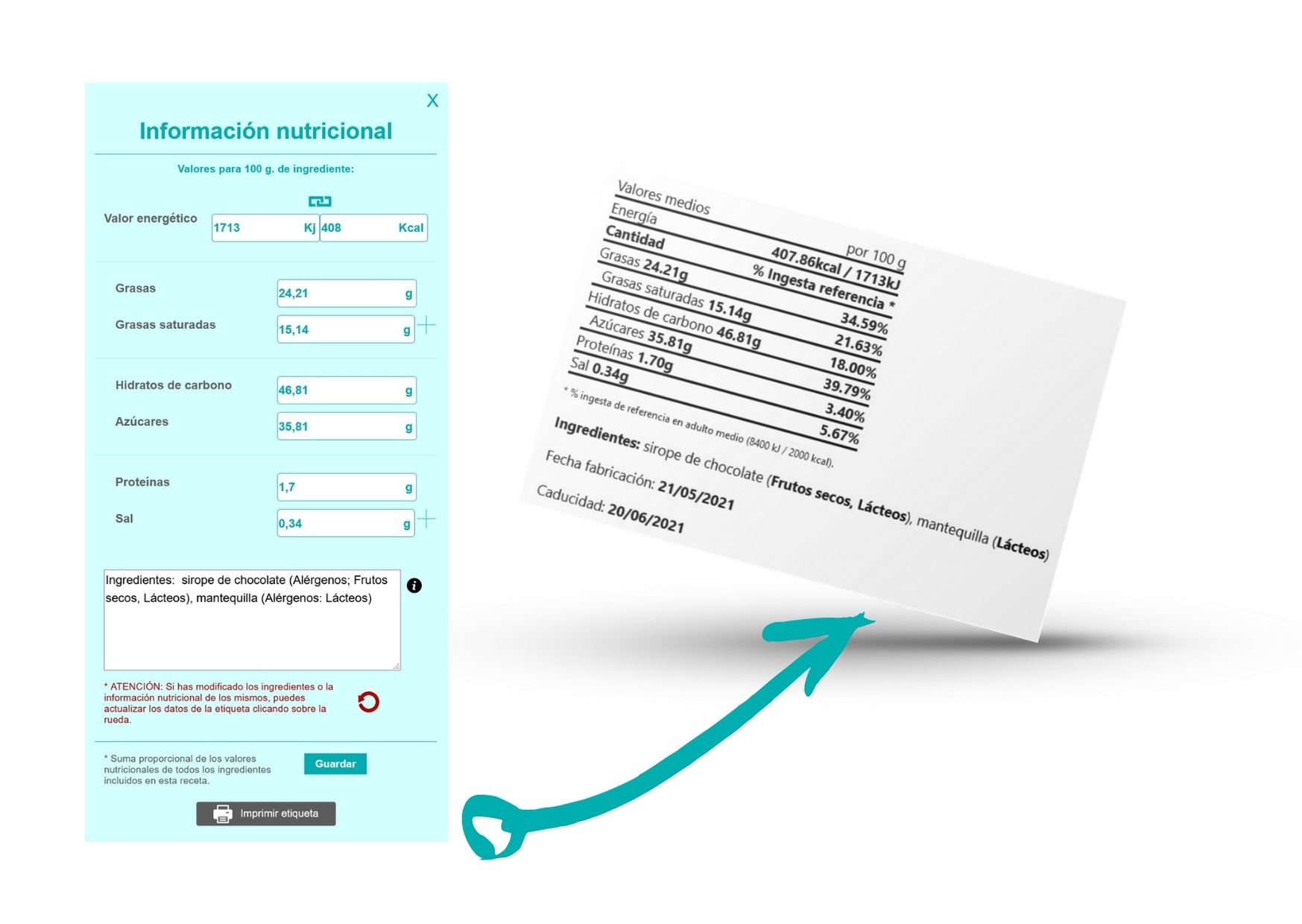 Automatically calculate the nutritional information for each recipe.
The formula takes into account the contributions of each ingredient proportionally based on the quantity of each.
It allows adjustment based on the final weight of the ingredients.
You can add the value per "serving" or "portion" of the product.
Recipok's ingredient database makes it easy to complete nutritional information for them.
It includes the recommended consumption for an average adult, as required by certain health organizations.
It's possible to add other nutritional data and breakdown of contained fats (saturated, cholesterol, etc.).
Complete labels in just a few clicks.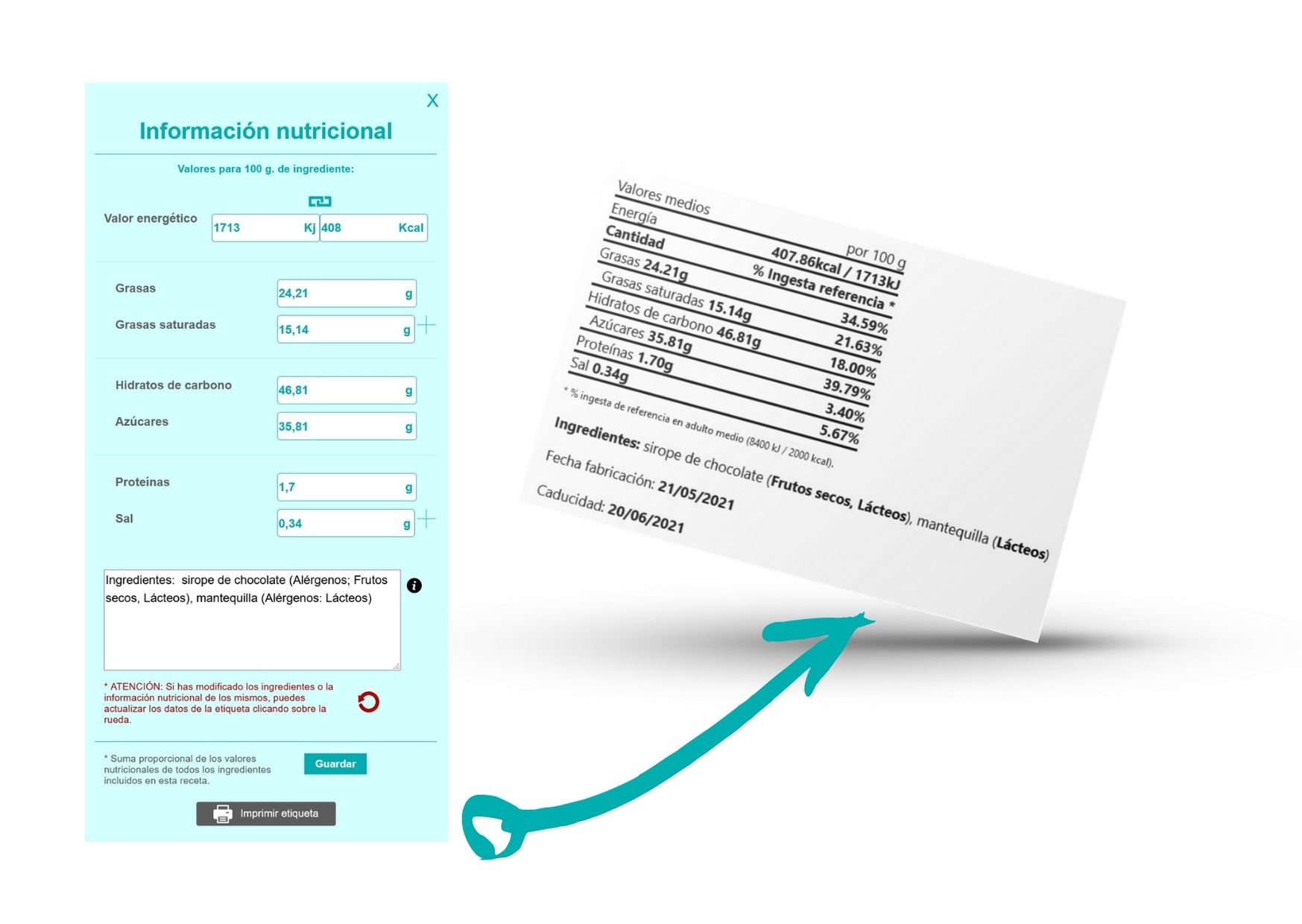 Recipok's payment plans allow you to carry out labeling easily and quickly. This way, you can:
Provide all necessary information.
Keep products and creations up-to-date.
Have the required health information.
Properly maintain traceability.
Fulfill requirements related to allergens, nutritional information, and much more.
¿Qué incluye el plan OBRADOR PRO?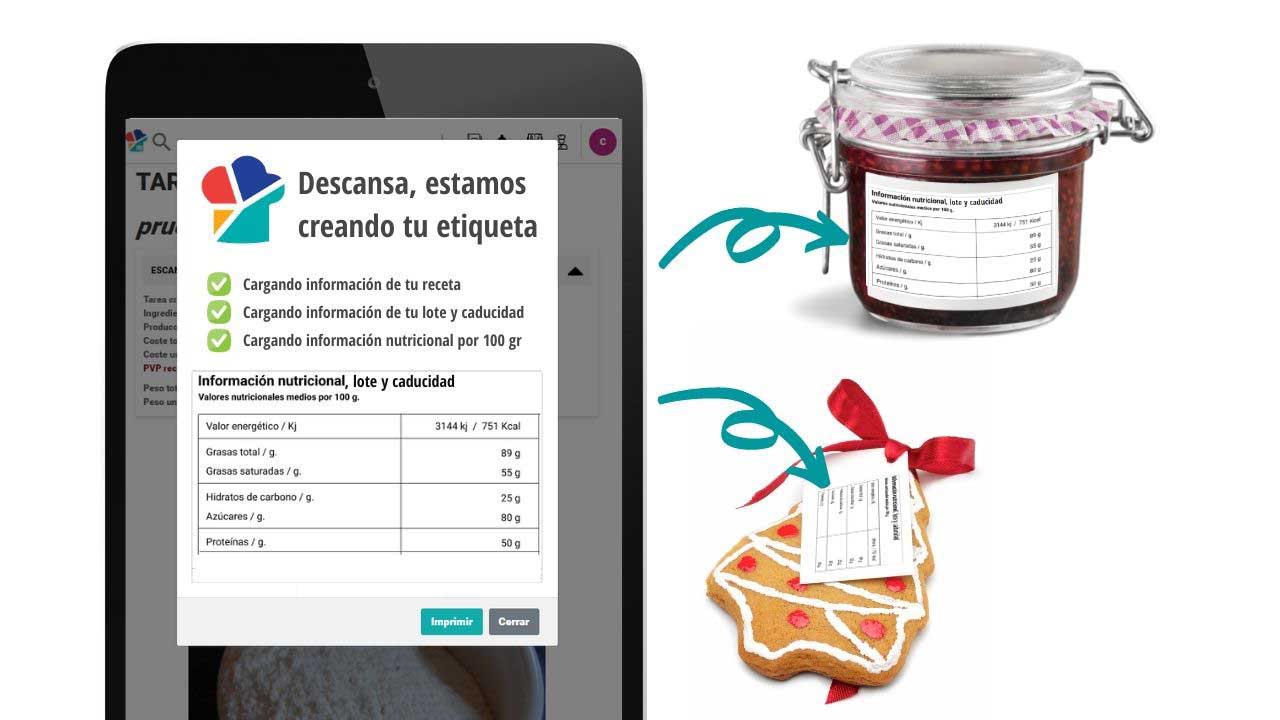 Cálculo avanzado de escandallos sin limitaciones.
Informe de recetas sin limitaciones.
Etiquetado básico con nº de lote, fecha de caducidad, fecha de elaboración, ingredientes, alérgenos.
Acceso a recetas exclusivas.
Configuración inicial de tu cuenta por nuestros expertos para la creación de tus primeros informes.
Soporte preferente.
Chefs who already trust Recipok
Chefs que ya confían en Recipok
Some brands that already collaborate with Recipok: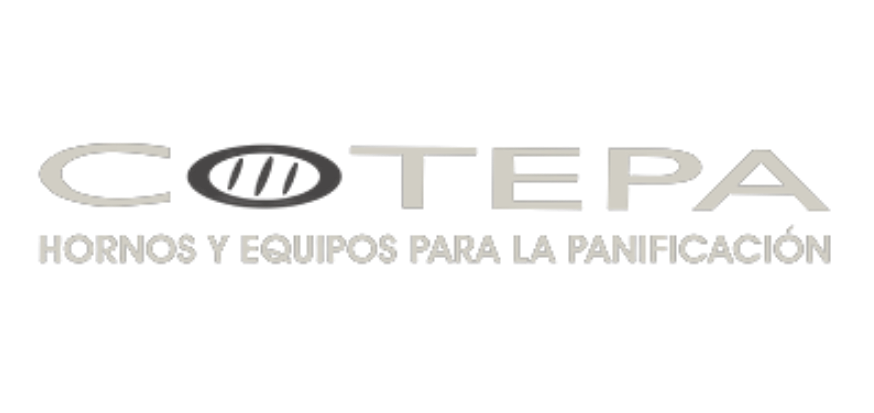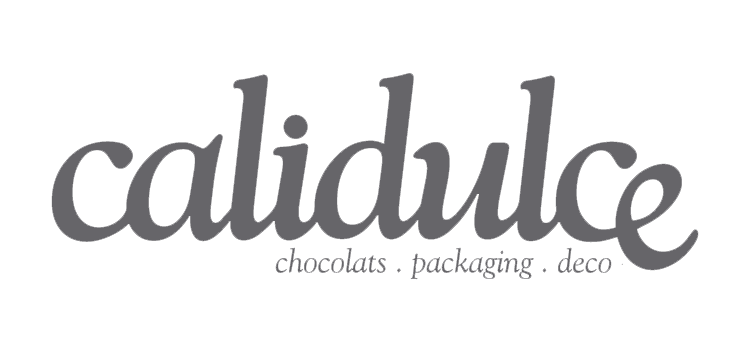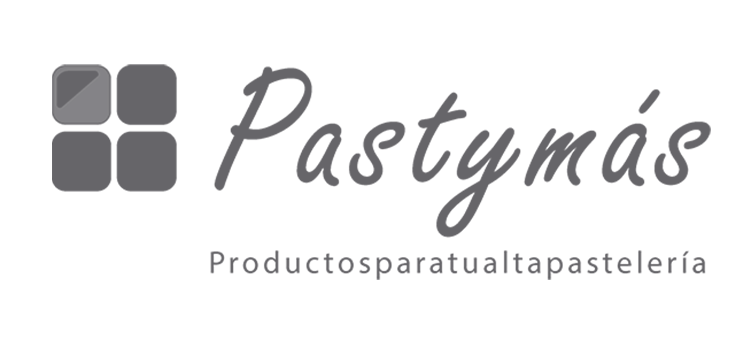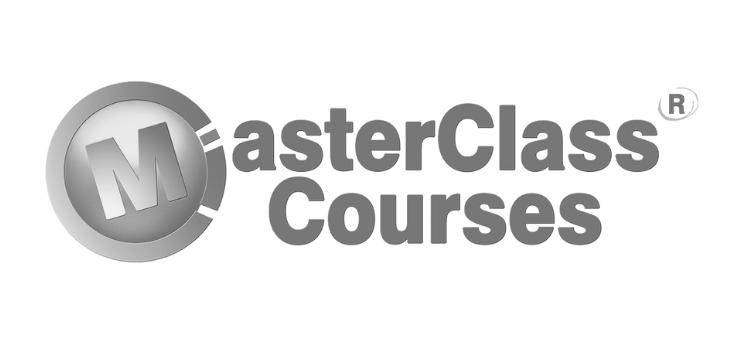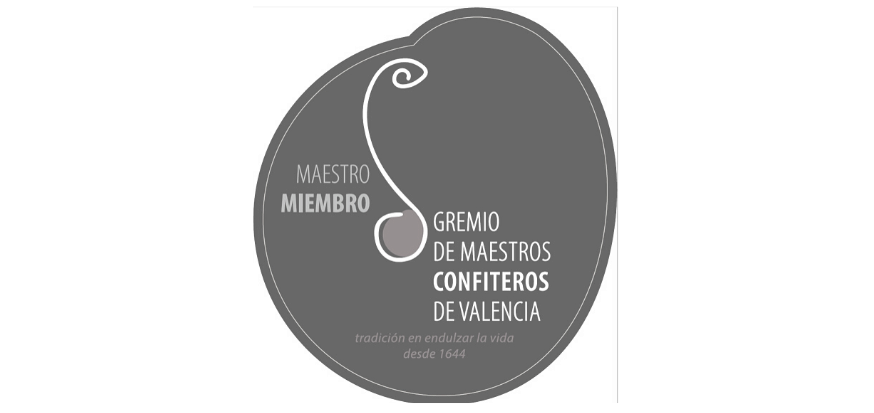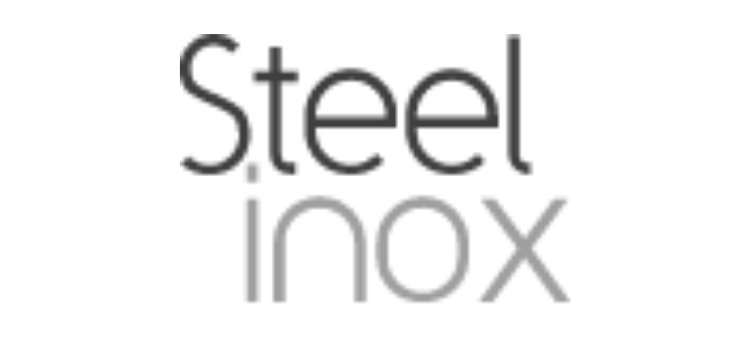 The technology from the professional workshop's perspective.
Recipok balances the scale between artisans (pastry chefs, bakers, cooks, etc.) and industrial or large-scale operations. Finally, there's a tool that democratizes technology and enables you to run your business in a professional manner. The cost breakdown application is, as of today, the most intuitive tool in the market.
Cost breakdown application.
In an incredibly intuitive manner and from any internet-enabled device, a detailed cost breakdown for all your products.
Professional traceability.
Health regulations will no longer be a concern. Comply with traceability standards using Recipok and its straightforward "tasks" system that generates a PDF with all the information associated with a recipe with just one click.
Organize your workshop.
Coordinating your team and scheduling tasks will ensure the desired profit and prevent additional costs due to waste and production errors. With Recipok, it's a piece of cake.
Easy labeling.
Don't waste time setting up labels for your packaged products. Recipok makes easy what was previously only within the reach of large food companies.
Your recipes, always secure.
Don't leave your information accessible to everyone. Your recipes are a valuable asset that Recipok will keep readily available but safe from prying eyes.
Shopping list.
Getting an accurate list of ingredients needed for an event will make you more efficient and competitive when budgeting and shopping. Stop wasting your valuable time.
Your assured margin.
Not sure about the profit certain creations bring you? Don't worry anymore, with Recipok, you'll precisely know what you earn from each of them. Don't waste your money.
Active professional community.
Become part of the growing Recipok community, leveraging and sharing only the information you want: Ingredients with nutritional information, recipes, recommendations, and much more.
Fresh recipes.
Need new ideas to impress your most demanding customers? In Recipok, you'll find a constant source of fresh recipes crafted by renowned chefs, innovative manufacturers, and raw material suppliers.